Former Cop Strikes Plea Deal on South Florida Weapons Charges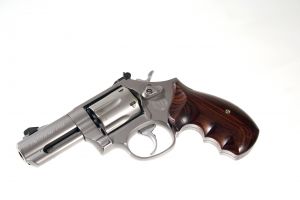 A former police officer pleaded guilty to federal weapons charges, including that he sold firearms to undercover agents at gun shows and, at least once, in a gas station parking lot.
Our Broward County criminal defense lawyers know that the laws surrounding weapons and weapons sales are somewhat complex, but can be more lax at gun shows, depending on the county.
The state of Florida allows each individual county to set the requirements for gun show background checks. In Broward, an ordinance was enacted in 2007 that requires a five-day waiting period for all gun sales, which are contingent upon passing a national background check.
That last part, according to Florida Statute 790.065, means that the individual can't have previously been convicted of a felony or a misdemeanor for domestic violence. It also means that he or she can't have been adjudicated mentally "defective," or in other words lacking normal intelligence or suffering from some mental illness.
And under federal law, specifically 18 U.S.C. 923, no one can engage in the business of importing, manufacturing or dealing firearms or ammunition unless he or she has received a license from the attorney general to do so.
Weapons charges can be prosecuted at either the state or federal level – it really depends on the primary investigating agency.
Gun owners who sell weapons for a hobby are allowed by state law to sell a limited number without a license, but they can only do so as a hobby. Once it becomes a more significant part of a person's income, it is then considered a part-time business and, as such, requires more licensing and compliance with federal regulations.
Depending on where you are and the nature of your sales, gun laws are not only controversial, they can be quite complex. This is why you should never assume that you have no choice but to plead guilty. A skilled defense attorney will be able to analyze your case from all angles to determine whether prosecutors indeed have enough evidence to convict you, or whether the charges can be plead down or whether you have a good shot at winning if your case goes to trial.
In this case, according to the Sun-Sentinel, a 55-year-old retired Miami Beach officer reportedly sold 11 firearms to agents who were acting undercover in the three years between 2009 and 2012. Prosecutors say there were records at the officer's home that indicated he had actually sold hundreds of guns to buyers at gun shows in Fort Lauderdale, West Palm Beach, Miami, Orlando and Fort Myers, without ever conducting the background checks that are required by licensed dealers.
According to prosecutors, the officer at one time did have a federal firearms license. However, it had expired and he had not taken the time to renew it. He maintained that he never sold to anyone who didn't have a permit to carry conceal weapons. Such documents would reflect that a state agency did in fact conduct a background check at some point prior to the sale.
Of course, that's not full-proof and it's not the same as a formal background check.
And the state did reportedly have evidence that the former officer knew his actions were illegal. In fact, he allegedly told them so during one of the deals. In all, they say he was paid more than $6,100 for 11 handguns.

If you are facing weapons charges in Broward County or Palm Beach County, contact the Law Offices of Leifert & Leifert, a Partnership of Former Prosecutors, for a free consultation to discuss your rights. Call 1.888.5.DEFEND.
Additional Resources:
Former Miami Beach cop pleads guilty to selling guns without license, Nov. 9, 2012, By Rafael Olmeda, Sun-Sentinel
More Blog Entries:
U.S. v. Peoples – Proper Courtroom Etiquette in Broward County, Nov. 10, 2012, Fort Lauderdale Criminal Defense Lawyer Blog